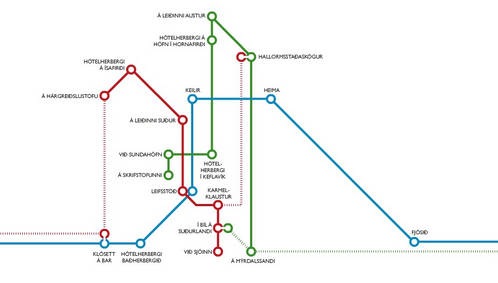 Room 408, is an adventurous sound, video and web experience with multiple interactive possibilities. Room 408 is a farce-like thriller which tells the story of Anna, Einar and their beautiful daughter Sonja who seem to live a happy life in a small town on the West Coast of Iceland. But when a close family friend dies hidden secrets start  to emerge and the family is swept into a swirl of  terrifying events.
You can choose scenes from the story map, go to a characters individal page or downlad a 66 minutes directors cut  to enjoy on your ipod far away from the computer.
You can also watch the opening event, a live performance broadcasted on the web between Helsinki and Reykjavík on 31st october 2009.
The piece offers you to explore the story in your own time by your own logic in the big story map. The piece offers you inside the characters skin on the character pages and  gives you their retrospect view on the events in the interrogation. It is an interactive piece where you control the place of departure, the pace and depth.
trailer herbergi408 english from Netleikhúsið Herbergi 408 on Vimeo.